California Nursing Home Abuse Attorneys
When you place a loved one into the care of a nursing home facility, you expect that their needs will be met and that they will be cared for. Unfortunately, negligence, neglect and elder abuse is all to common in nursing homes.
Although there are numerous federal and state regulations are in place to protect the elderly in these settings, gross violations occur all too often, tragically compromising dignity, well-being and the health of many of society's most vulnerable members.
What types of Nursing Home Negligence Cases are Actionable?
The Nursing Home Negligence attorneys at Curd, Galindo & Smith represent injured nursing home residents and the families of those emotionally and physically injured as well as wrongfully killed in cases involving:
Bed Sores, Pressure Sores, Decubitus Ulcers
Sepsis
Wandering and Elopement
Falls
Physical or Sexual Assault or Abuse
Physical or Chemical Restraints
Verbal Abuse
Malnutrition or Dehydration
Medication Errors
Choking
Clogged Breathing Tubes
Burns
We rely upon Nursing Homes to care for our elderly & disabled adults
Many elderly and disabled adults rely upon nursing homes to deliver to their day-to-day care including meals, medication, bathing and maintaining general hygiene and cleanliness. Many nursing homes fail to live up to basic minimum standards of care for a variety of reasons, including but not limited to:
Failure to adequately staff the nursing home
Failure to adequately train the nursing home staff
Failure to prevent the abuse of patients by staff
Failure to provide monitor patients properly
Failure to provide a clean environment for patients
Failure to provide bathe and dress patients properly
Failure to provide adequate meals for patients
Failure to provide or administer prescribed medications for patients
Whether the nursing home negligence or neglect was a single incident or a recurrent event – that caused you or your loved one emotional or physical injuries, you have the right to seek full and fair financial compensation for your suffering.
Nursing Home Negligence can also apply to other Caregivers
Nursing home negligence can also apply to other caregivers such as in-home caregivers and other medical providers who are tasked with the care of dependent individuals are also liable for their actions or inactions. If you or your loved one was injured or wrongfully killed due to in-home nursing negligence, neglect or abuse, you may be entitled to compensation. The nursing home abuse and negligence attorneys at Curd, Galindo & Smith, can help you get the facts about your case and make a determination of the value of the case as well.
Curd, Galindo & Smith is one California's most recognized and respected personal injury, elder abuse and nursing home abuse litigation firms. If you believe that a loved one may be the victim of nursing home negligence, neglect or abuse in Los Angeles, Orange County or anywhere in California. You should take action quickly and contact us at (800) 300-2300 to set up a free consultation with an experienced nursing home abuse attorney.
Contingency Fee Basis — No Win, No Pay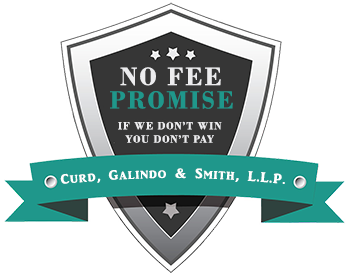 You absolutely can afford to retain the services of the nationally-recognized personal injury attorneys at Curd, Galindo & Smith because we work on a contingency-fee basis.
What does this mean to you? You do not have to pay us any type of fee out of pocket. In fact, you will not even have to pay us a dime unless we win your case. The contingent-fee arrangement is also commonly referred to as "no win — no fee" because the client is not held responsible for payment in the event that the attorneys are not successful in recovering an insurance settlement or jury award for money damages.
If you have been seriously injured, we encourage you to call us today at (800) 300-2300 for your free, confidential consultation.