California Auto Accident Attorneys
Hundreds of auto accidents happen each and every day. If you are the victim of an auto accident, then you may be entitled to financial compensation for your injures, pain, and property damage. You may be entitled to financial compensation, whether it be from the party who was at fault, or through their own insurance provider.
Financial Consequences of an Auto Accident
Whether you were involved in a simple fender bender injured in an accident caused by a drunk driver, some of the financial hardships can include the following:
Property damage – Includes damage done to your vehicle and its contents.

Medical bills – Includes immediate medical bills resulting from the accident and ongoing expenses, such as physical therapy, chiropractic therapy and psychiatric therapy.

Lost wages – Includes all hours, days, weeks, or months you you miss from work because of the accident.

Pain and suffering – Includes physical pain that you suffer during and after the accident and chronic, on-going pain that lingers long after the accident.
California Financial Responsibility Law — minimum Motor Vehicle Insurance
As Los Angeles and Orange County car accident lawyers, we are keenly aware that the California Financial Responsibility law requires all drivers to carry liability insurance to cover:
$15,000 for injury/death to one person.
$30,000 for injury/death to more than one person.
$5,000 for damage to property.
These minimum legal requirements often fall far short when one is in a serious car accident where the costs incurred by the injured party will likely be much higher.
As auto accident attorneys we know that in spite of the California Financial Responsibility Law, almost 20 percent of drivers on the road may not be carrying auto insurance. For this reason, it is prudent and wise to carry uninsured motorist [UM] or under-insured motorist [UIM] coverage. By having UM/UIM coverage, your insurance company will cover you in the event you are hit by an uninsured driver or one whose policy limits fail to cover your damages incurred in an accident.
Insurance Companies are "For Profit" Corporations — Theirs!   (Claimants Take a Back Seat)
Auto accident victims might assume that their insurance company or the insurance company of the person or persons responsible for their accident will fairly take care of any claim, but the truth is that most insurance companies business model it to make profit which includes the unstated practice of paying out the lowest amount possible. Challenging these billion dollar companies on your own will is a losing battle. Skilled auto accident lawyers who can wield the valid threat of a messy jury trial are about the only leverage that accident victims have at their disposal to negotiate a fair and comprehensive financial settlement.
Seek the Help of Experienced Auto Accident Attorneys for Your Claim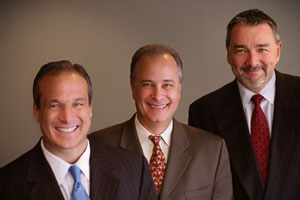 Negotiating an effective settlement requires a thorough understanding of the facts of the case, the law that applies, the value of the claim, and the ability and willingness to take a case to trial where necessary. Our auto accident lawyers possess these qualities and have obtained multi-million dollar settlements and verdicts on behalf of clients and their families who were injured or killed in automobile and truck accidents on the California roadways. If you or a loved one has been involved in an accident, contact Curd, Galindo & Smith, L.L.P. for a free consultation regarding your potential claims.
Contingency Fee Basis — No Win, No Pay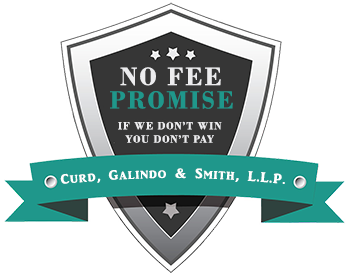 You absolutely can afford to retain the services of the nationally-recognized personal injury attorneys at Curd, Galindo & Smith because we work on a contingency-fee basis.
What does this mean to you? You do not have to pay us any type of fee out of pocket. In fact, you will not even have to pay us a dime unless we win your case. The contingent-fee arrangement is also commonly referred to as "no win — no fee" because the client is not held responsible for payment in the event that the attorneys are not successful in recovering an insurance settlement or jury award for money damages.
If you have been seriously injured, we encourage you to call us today at (800) 300-2300 for your free, confidential consultation.