California Bus Accident Attorneys
Bus Accidents in Southern California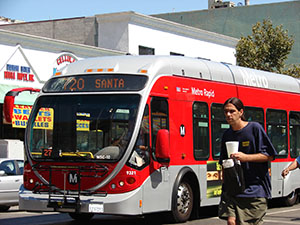 In a geographically-dense, metropolitan area like Southern California, public transportation is a helpful alternative to owning and/or driving a car or truck. Public transportation, including buses and light rail transit systems, provide a convenient alternative to driving when and where it makes sense. Unfortunately, negligent public transit drivers, inadequate driver training, shoddy maintenance, and over-worked bus drivers are sometime the cause of unfortunate accidents involving public transportation buses that cause injury and even death to bus riders, pedestrians, auto and bicycle riders and other innocent victims.
City buses also lack the safety features that modern day automobiles take for granted, such as seat belts, soft surfaces and air bags. Because of that, bus accidents often result in more serious injuries to its passengers than private vehicles.
The statistics show there are lots of Injuries & Deaths each year
The Federal Motor Carrier Safety Administration (FMCSA) reports that in 2012, bus accidents resulted in:
Two hundred fifty (250) fatalities due to bus accidents (page 33 1)
Twelve thousand (12,000) injuries (page 34)
Forty-two thousand (42,000) instances of property damage (page 35)
NOTE:
these statistics only include buses that transported nine (9) or more people, so considering the smaller city "Dial-A-Ride" buses, the true statistics may actually be higher.
1
U.S. DOT Bus Crash Facts 2012
Bus Accidents involve Bicyclists, Car Drivers, Bus Passengers, and Pedestrians
There are many causes for bus accidents including driver negligence, driver fatigue, inadequate driver training, defective equipment, shoddy or improper maintenance of buses. In the noisy urban settings in of Southern California's bustling cities, a bus driver maneuvering the city streets may not even be aware that their bus has collided with an automobile, bicyclist or an innocent pedestrian. For bus riders, injuries can be sustained when buses make lane changes, sudden movements, or turns that cause passengers to be thrown against hard structures or to the floor. Riders often become human projectiles with tragic results. Injuries can range from bumps, bruises, skin lacerations to more serious injuries such as broken bones and concussions. Concussions can be especially dangerous for more "fragile" elderly riders and young children.
Shoddy & Inadequate Maintenance Issues
When private bus companies and municipalities fail to maintain the buses they put on our streets, mechanical failures can lead to collisions and accidents that result in injuries and deaths. For example, old brake shoes or brake pads that are not replaced at timely intervals can contribute to a bus driver rear ending a vehicle. Old and cracked or worn tires can cause dangerous blowouts leading to vehicle crashes and collisions.
California Law states that "Common Carriers" have a Higher Duty
Bus driver negligence has resulted in collisions and crashes when bus drivers are talking or texting on their cell phone, eating while driving, and other engaged in other distracting activities. Under California law, buses are considered "common carriers", and owe a duty to the public to use the highest care and the vigilance of a very cautious person in protecting the safety of their passengers. California Civil Code Section 2100 states that "A carrier of persons for reward must use the utmost care and diligence for their safe carriage, must provide everything necessary for that purpose, and must exercise to that end a reasonable degree of skill." A common carrier does not insure the safety of its passengers, but it must use reasonable skill to provide everything necessary for safe transportation.
VIDEO EXAMPLE:   Bus driver smoking pot. Passes out and Then Crashes into a House
Here is a picture from a new helicopter and a video of a recent event that captures disturbing footage of a bus driver appearing to smoke marijuana while driving a bus before he crashes into a house.
Were you injured in a bus accident?
If you have been hit by a bus or you were a passenger on a bus and were injured during severe movements or in an actual crash or collision, it is important to collect and document as much information as possible about the bus, the driver, and the circumstances of the incident. Many buses have video cameras (like the video above) that record the interior of a bus, but those recordings sometimes miss critical information and are not always available when an injured victim needs them. We can expedite that through legal channels and our in-house private investigator can fill in a lot of missing details to bolster your case possibly the monetary value of your claim.
Southern California bus accident attorneys at Curd, Galindo & Smith assist pedestrians, bicyclists, drivers and passengers of other motor vehicles, and passengers of buses, and light rail in obtaining just financial compensation for injuries caused because of all type of public transportation negligence and injury cases that arise from:
Rear-ending collisions
Head-on collisions
Broadside accidents
Improper turning
Sideswiping vehicles, bicyclists
Turning without signaling or stopping
Not observing pedestrian right-of-way
Fatigued drivers
Drivers under the influence
Reckless operation
Inadequate driver training
Improper maintenance of vehicles
Defects in vehicles or equipment
Thousands of people in the U.S. are injured or killed every year
Thousands of people in the United States are injured or killed every year in bus accidents. Due to their sheer size, bus accidents often result in serious / catastrophic injuries and even death. Lives can be turned upside down in an instant, and you may feel lost and confused and not know where to turn next. The Southern California Personal Injury Lawyers at Curd, Galindo & Smith, L.L.P. , we are here for you!
If you or one of your loved ones has been injured in a bus accident, call (800) 300-2300 to set up a free initial consultation with an experienced bus accident lawyer. Curd, Galindo & Smith provide a free initial consultation, and bus accident victims are represented on a contingency fee basis. If we do not obtain a settlement or money judgment for you, we don't receive a fee.
---
Contact a Southern California Personal Injury Attorney
The Southern California Personal Injury Lawyers at Curd, Galindo & Smith represent clients injured by dog bites, auto accidents, workplace accidents, accidents on another's property, medical malpractice and wrongful death cases. If you think you may have a personal injury case, please do not hesitate to seek the expert legal assistance you need to make things right. It costs nothing to call us, costs nothing for a consultation, and costs nothing to get us started looking out for your rights if we agree that you have a solid case.
Unexpected and unfortunate things happen to good people. Our caring legal professionals are here to help you recover the financial payment you deserve so you can get on with your life. Remember, all legal fees are based on a percentage of the award, and you pay nothing for our services until we win your case. We have three conveniently-located offices in Southern California.
Contingency Fee Basis — No Win, No Pay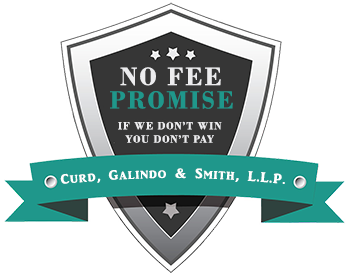 You absolutely can afford to retain the services of the nationally-recognized personal injury attorneys at Curd, Galindo & Smith because we work on a contingency-fee basis.
What does this mean to you? You do not have to pay us any type of fee out of pocket. In fact, you will not even have to pay us a dime unless we win your case. The contingent-fee arrangement is also commonly referred to as "no win — no fee" because the client is not held responsible for payment in the event that the attorneys are not successful in recovering an insurance settlement or jury award for money damages.
If you have been seriously injured, we encourage you to call us today at (800) 300-2300 for your free, confidential consultation.