California Cruise Ship Injury Attorneys
Cruise ship accidents and crimes have been increasing exponentially, including passenger injuries, overboard accidents, tender injuries, onshore accidents, cruise ship sexual assault, and theft.
If you are a cruise ship accident victim or injured passenger while on a cruise ship, your injury claim is handled differently than a land-based auto or slip and fall accident. Injuries sustained at sea are governed by different laws and require an experienced personal injury attorney who understands maritime law.
What Factors Contribute to the Typical Cruise Ship Accident?
There are endless factors that can contribute to a cruise ship accident or injury, Yes, some injuries happen by sheer chance and through no one person's fault, but studying the spiraling court cases you will discover that the vast majority of accidents and injuries in the cruise ship industry are the result of negligence. Often that negligence is from lack of crew training, equipment that was not maintained properly, or because there was a lack of reasonable on-board security. In fact, the failure of cruise operations to maintain a reasonably safe shipboard environment is at the root cause of many on-board accidents, shipboard rapes and theft crimes.

Accidents and Injuries are Very Common on Cruises
Accidents and injuries occur aboard the ship in public spaces, in cabins, in bathrooms, on stairways, on wet and slippery decks, because of defective or non-maintained equipment, assaults by crew members and assaults by opportunistic passengers. Accidents and injuries also occur off the ship, while traversing gangways, getting on or off ship tenders and during shore excursions.
Common injuries include:
Neck and back injuries
Bulging and herniated disks
Knee injuries
Crush Injuries
Broken legs, ankles, arms, wrists
Concussions and head injuries
Internal injuries
Slip and fall injuries
Such accidents and injuries happen on all cruise lines including: Carnival, Celebrity, Holland America, Norwegian Cruise Line, Princess Cruises, Royal Caribbean, as well as other smaller cruise lines.
Fighting For Compensation on Your Own is an Uphill Battle
Lawyers who work for these cruise line operators are very experienced at dealing with claims from injured passengers. They work very hard to avoid, delay, or minimize passenger claims so they don't have to pay money nor admit fault. That orchestrated behavior is why passengers and their families hire cruise ship accident injury lawyers to represent them.
Curd, Galindo & Smith Can Help Put this Mess Behind You
Just because your recent cruise became a disaster because of an injury doesn't mean the rest of your life should be affected. If you have suffered a cruise ship passenger injury, you may be entitled to substantial financial compensation. Contact our cruise ship accident injury law firm today to schedule a free initial consultation at one of our offices in Orange County (Costa Mesa) or Los Angeles County (West Los Angeles or Long Beach).

Contingency Fee Basis — No Win, No Pay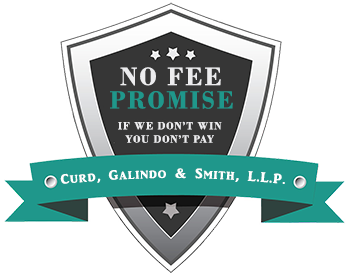 You absolutely can afford to retain the services of the nationally-recognized personal injury attorneys at Curd, Galindo & Smith because we work on a contingency-fee basis.
What does this mean to you? You do not have to pay us any type of fee out of pocket. In fact, you will not even have to pay us a dime unless we win your case. The contingent-fee arrangement is also commonly referred to as "no win — no fee" because the client is not held responsible for payment in the event that the attorneys are not successful in recovering an insurance settlement or jury award for money damages.
If you have been seriously injured, we encourage you to call us today at (800) 300-2300 for your free, confidential consultation.